Cancer Support
Blue Cross Blue Shield of Michigan and Blue Care Network are working with OncoHealth® to provide support for your employees affected by cancer.
The solution
Cancer is a difficult disease to navigate, emotionally and physically. Our Cancer Support solution is an opportunity for you to provide more help to your employees and their families during a critical time. 
If you have employees battling or taking care of a loved one with cancer, it can be difficult to know how to support them. Cancer Support is a program that uses OncoHealth's virtual platform, Iris. This platform provides on-demand access to cancer experts, information and clinical and emotional support.
Adding Cancer Support to your health plan provides your employees and their families with: 
A personalized virtual support system
Access to side effect and symptom management tools
Improved emotional health and coping skills
Cancer Support doesn't replace or interfere with care from established care teams and doctors. It complements them by providing immediate access to educational information and resources that cancer patients often need between appointments and treatment.
The Iris virtual platform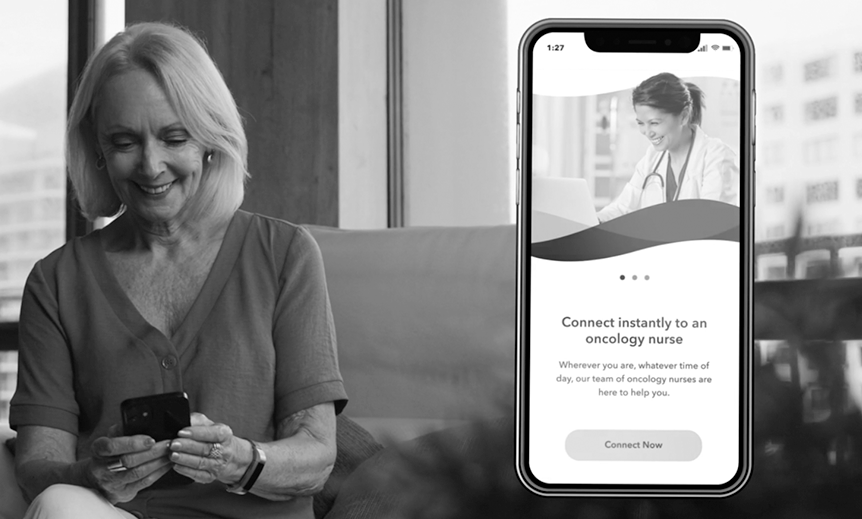 You never expected cancer. Who does?
You're confident in your doctor's plan still it can feel overwhelming and the uncertainty that comes with each should I worry about this?
At OncoHealth, we focus on the complexities of cancer so you can focus on your care. That's why we created Iris.
Developed by oncologists and available at no additional cost to members of participating health plans, Iris is a 24/7 digital service connecting you instantly to US-based Cancer Specialists.
Because you have enough on your mind you shouldn't have to bottle up your questions and concerns until your next office visit. 
With Iris you can access a team of oncology nurses, schedule and have sessions with an oncology mental health therapist and gain access to a network of peer mentors who understand what you're going through.
Your doctor leads your treatment. We're here for the moments in between when you're sick in the middle of the night and aren't sure if you need to go to the emergency room.
Iris is here for you when you need to share the news with your boss or your kids and don't know how to start the conversation. 
Iris is here for you when you're struggling to find hope and just want to talk to someone who's been where you are.
Iris is here for you.
The care and support you need from the comfort of your home. Discover Iris today.  
Key features of the Cancer Support program
Employees and family members on their plan - who are survivors, newly diagnosed, in treatment or caregivers - get full access to virtual care through an app or by phone at no cost.
Learn more about Cancer Support
Contact your sales representative or agent today to learn more about adding Cancer Support for your employees.
OncoHealth is an independent company supporting Blue Cross Blue Shield of Michigan and Blue Care Network by providing cancer support services.