Strengthening the Safety Net Grants
Improving access and health equity
Since 2005, Blue Cross Blue Shield of Michigan has invested more than $1 million each year in Strengthening the Safety Net grants. The grants support free and low-cost clinics that provide care to uninsured and underinsured Michigan residents.
Building a healthier Michigan
Blue Cross is grateful for our safety net partners who continue to care for those who are vulnerable.
Access to health care improves health outcomes and builds stronger communities by:
Reducing health disparities
Lowering health care costs
Empowering a healthier workforce
Creating strong families
Grants are available to Michigan clinics providing free medical, dental or mental health care to uninsured and underinsured residents. Learn more about the grants and how to apply.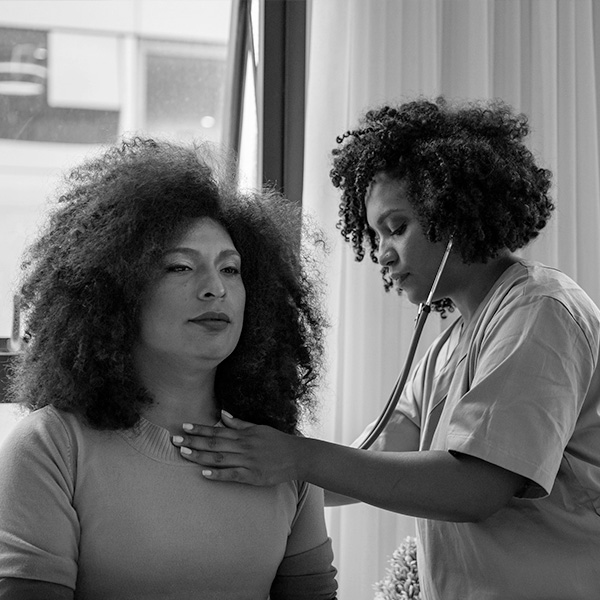 OUR SAFETY NET PARTNERS
Strengthening the Safety Net
In Michigan, a network of clinics (often run by a small army of volunteer doctors, dentists and professional staff) provide free or low-cost care as a safety net. These clinics play a vital role, helping the most vulnerable in our communities. They rely on fundraising to pay their bills, keep the lights on, doors open and shelves stocked with medical supplies.
Learn more about how Blue Cross partnerships throughout Michigan work to improve health care and help patients who would otherwise fall through the cracks in the health care system. 

Clinics we've supported
Strengthening Safety Net grants are at work in clinics across the state providing much needed health care and improving access for our most vulnerable residents.
Together, Strengthening the Safety Net grantees serve as a lifeline for thousands of uninsured and underinsured patients, their families, and communities. 
Carefree Medical and Dental – Lansing
Caring Heart Free Health Clinic – Marlette 
Central Michigan University Street Medicine Program – Saginaw

Centro MultiCultural La Familia – Pontiac
Cristo Rey Family Health Center – Lansing

Helen M. Nickless Volunteer Clinic – Essexville

His Healing Hands – Lansing
Genesee County Free Medical Clinic
People's Clinic for Better Health – Port Huron

The Regents of the University of Michigan – Pinckney
Shiawassee Free Medical Clinic – Owosso

St. Luke's Free Clinic – Jackson
St. Peter's Free Clinic of Hillsdale County

VINA Community Dental Center – Brighton
Northern Michigan:
Boyne Area Free Clinic
Northern Care Center – Cheboygan

Ogemaw Hills Free Clinic – West Branch
Stehouwer Free Clinic – Cadillac
Upper Peninsula:

Care Free Dental of Florence and Dickinson – Iron Mountain
ACCESS Community Health & Research Center – Dearborn 
Arab American and Chaldean Council Community Health Center –Detroit
C-ASIST – Dearborn
Cass Clinic – Detroit
Faith Works Medical – Monroe

FernCare Free Clinic – Ferndale
The Gary Burnstein Free Clinic – Pontiac
Health Emergency Lifeline Programs/Corktown Health
Hope Medical Clinic – Wayne
Hope Medical Clinic – Ypsilanti
HUDA Clinic – Detroit
The Luke Project 52 Clinic
Macomb County Street Medicine & Spartan Street Medicine Program – Clinton Township, Lansing

MAPI Clinic – Taylor
McLaren Macomb Medical Outreach Clinic – Mount Clemens

Order of Malta Medical/Dental Clinic – Detroit
Robert R Frank Student Run Health Center – Detroit
St. Frances Cabrini Clinic – Detroit
Wyandotte Clinic for the Working Uninsured – Wyandotte

Baxter Wholistic Clinic – Grand Rapids

Catherine's Health Center – Grand Rapids
City on a Hill Health Ministries – Zeeland
Exalta Health – Grand Rapids

Fountain Clinic – Marshall
Holland Free Health Clinic
Hope House Free Medical Clinic – Big Rapids
Love in the Name of Christ Free Health Clinic – Grand Haven
Mel Trotter Ministries – Grand Rapids
Oasis of Hope – Grand Rapids

Presbyterian Health Clinic of Branch County
Renewed Hope Health Clinic – Allegan