Protected Medicare Advantage PPO
You should have received a letter from the Trust, which explains the eligibility criteria for the Protected member category in more detail.

If you have questions about the Protected category or your eligibility, call Retiree Health Care Connect at 1-866-637-7555.
Does someone else help with your coverage?
Protected MA PPO
This plan can save you hundreds of dollars per year
Best of all, there's no change to your health care coverage. You get all the benefits you're used to and maybe a few more.
SilverSneakers award winner
See how SilverSneakers can help to enrich your health and well-being.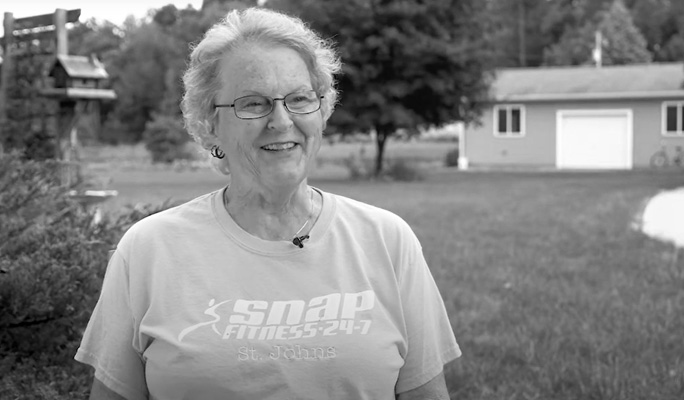 I'm Sally Miller and now I'm getting a 2018 Richard L. Swanson award for SilverSneakers. The ceremony this morning was very important for the family of ours. I have grandchildren that are a sophomore and junior in St. Johns and that's where it was being held, at the Snap Fitness, and we've been participating in the SilverSneakers program.
Blue Cross really sent me a letter and told me that they were changing my insurance to another insurance of my choice and they would pay the difference, and at the same time my husband was doing traditional GM. And we were comfortable in both insurances, but we weren't using either one, we weren't hurt, sick, needing any more than the annual doctor appointments.
After the letter that I received we both went to the PPO advantage. So when we switched it was a SilverSneaker program and I thought that'd be cool cause our son was already convinced that we should belong to it and I dragged my feet of course, because I was already set in my ways. Crafting, breakfast, lunch, soap operas. Being afraid of going to do something different is a challenge but just go and try it. It causes a lot of friendship, a lot of people are not couples anymore at our age and they look forward to your smiling face, a comment, a slap on the hands, saying hello and I enjoy it I look forward to my friends, and they enjoy me as you can tell today in the award show it was just like, slapping hands and smiling at each other and say, "See ya Thursday," cause we do have a standing date.
Going to the gym makes you stronger. It's surprising how just walking down the country road can lighten your heart, lighten your mind, but you need physical strength to endure. It used to be nursery school, go to work, it used to be bowling it used to be real girls with red hatters things like this and now people are thinking more physical. If they keep their health at a safer pace, their longevity is gonna last longer, their memory is gonna last longer, their heart's gonna work better.
1-833-702-2555
8:30 a.m. to 6 p.m. ET
Monday through Friday
TTY users call 711
Medicare Plus BlueSM and BCN AdvantageSM are PPO, HMO, and HMO-POS plans with Medicare contracts. Enrollment in Medicare Plus Blue and BCN Advantage depends on contract renewal.
With the exception of emergency or urgent care, it will cost more to get care from non-plan or non-preferred providers. You may receive services from any provider who accepts Original Medicare. Your out-of-pocket costs will be lower if you choose a network provider. To find a network provider, visit Find a Doctor.
Limitations, copayments and restrictions may apply. You must continue to pay your Medicare Part B premium. Consult your Evidence of Coverage for specific information about your benefits and cost-sharing responsibilities.
The benefit information provided is a brief summary, not a complete description of benefits. For more information, contact the plan's Customer Service center. Benefits, premium, copayments or coinsurance may change on Jan. 1 of each year.