November – December 2019
5 questions with Dr. Duane DiFranco: Substance use, Medicare star ratings, behavioral health and more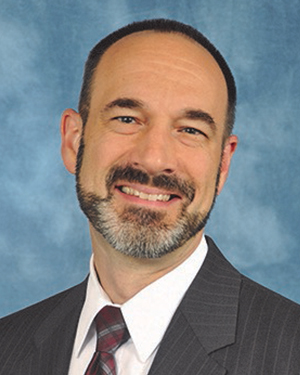 Dr. Duane DiFranco, Blue Cross Blue Shield of Michigan's vice president of Medicare star ratings and clinical performance, leads the company's Opioid Task Force and efforts to improve our Medicare star ratings and HEDIS® scores. We talked with him recently about these topics and other issues related to clinical performance.
A recent report showed that hundreds of thousands of substance abuse and mental health patients go untreated in Michigan. How do we address this issue?
It's a two-pronged problem: First, we have to ensure that we have enough providers in our network who can provide the quality care our members deserve. Second, we need to look at innovative ways we can boost the effectiveness of the providers we have who are trained to address substance use issues so they can become more efficient and reach the people who are in need.
I heard that a new medication-assisted treatment program is being developed in conjunction with the Physician Group Incentive Program. What can you tell us about that?
We're very excited about this program, which is set to launch in January 2020. It has three main components: improving access to treatment, developing care teams to support patients and engaging emergency department physicians in our efforts to battle the opioid epidemic. The program was introduced at the September Physician Group Incentive Program meeting.
I understand you spearheaded our internal Opioid Task Force that launched about two years ago. What progress has been made to date and what more needs to be done?
We've made a significant amount of progress in battling the opioid epidemic, with our efforts focused on increasing awareness of the problem, educating providers and reducing the number of opioids being prescribed. For example:

We launched a pilot program called CLIMB that uses medication-assisted treatment, or MAT, for patients with opioid use disorder.
We provided free buprenorphine waiver training for providers in 2018 at several locations across Michigan. Providers must obtain a waiver from the federal government to prescribe buprenorphine, a key element of medication-assisted treatment.
We leveraged telemedicine to provide MAT and behavioral health services to patients in rural areas where there was a limited supply of providers equipped to handle opioid use disorder.
We enhanced our reimbursement strategies so that providers treating patients with opioid use disorder could receive additional compensation.
We worked with the Michigan Quality Improvement Consortium, or MQIC, to develop a guideline for the use of opioids.
We supported community coalitions by providing grants to help them fight opioid abuse.
We worked with doctors to limit the quantity and day supply of addictive substances.
Editor's note: For more information, see our flyer on what Blue Cross and BCN are doing to fight the opioid epidemic.
As the clinical lead for our Medicare star ratings performance, what can you tell us about provider involvement in this initiative?
Our health care providers take Medicare star ratings very seriously. They try hard to meet the Medicare star measures because they understand the key role these measures play in improving care outcomes for our Medicare population. In fact, we learned in October that both Blue Cross and Blue Care Network achieved a 4-star rating for 2020 from the Centers for Medicare & Medicaid Services. This is an accomplishment few plans achieve — and we owe much of that success to our provider partners who keep health care quality as their main goal.
Over the past few years, we've increasingly focused on the role that behavioral health plays in overall wellness. Why is this important?
So many of our members struggle with behavioral health issues. In addition to the challenges behavioral health issues present in and of themselves, those with behavioral health issues have a greater incidence of medical comorbidity. The association between medical conditions and behavioral health conditions is staggering. In fact, the medical spend for people with a behavioral health issue is three times higher than for someone without a behavioral health issue. That's why it's important that primary care doctors work with care managers and behavioral health specialists, including psychiatrists, psychologists and social workers, to get patients on the road to wellness.